Shopping Basket
Your Basket is Empty
There was an error with PayPal
Click here to try again
Thank you for your business!
You should receive an order confirmation from Paypal shortly.
Exit Shopping Basket
Meridian Wellbeing

Hypnotherapy and Talking Therapies
... to achieve lasting change
Online or In-Person Sessions - Based in Stirling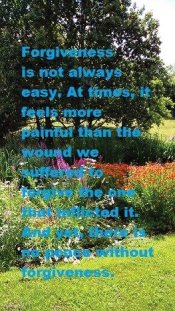 Forgiveness is something that we may or may not believe is the right thing to do regardless of what has been done to us. It is often seen as a time where we let someone off for what they have done, maybe because of family pressure; perhaps it is a parent you are struggling to forgive? This often causes a problem within the family, creating a sort of societal pressure to forgive as it is the 'right thing to do' or to reduce conflict.
But does forgiveness mean letting somebody off the hook for their actions? Or, can we get a sense of self-healing and closure from forgiving somebody?
Even the thought of attempting to forgive somebody who has done you wrong can be difficult. This is especially so, if the person isn't sorry for their actions. Yet, forgiveness can be a healing process, allowing you to let go of feelings and thoughts around an event that may have been holding you back. You might not have thought of forgiveness as a way of self-healing, maybe you see it as the wrongdoer getting away with what they have done to you or someone close and that's a very common feeling. If a wrongdoer has done something that has impacted you so greatly, then why should they be allowed to get away with it? Holding onto such feelings can have a negative impact on your mental health and everyday life.
Feelings of hurt relating to disloyalty, brutality and betrayal can take a long time to recover from and it is not a process that happens overnight. Your relationship to the person who has hurt you can also impact the length of time it takes you to heal. This is very much linked to your ability and willingness to forgive. Forgiveness is a process that will take time but will ultimately help you to move forward, reduce the negative impact on your mental health and keep your everyday life positive.
Forgiving the wrongdoer is not about condoning or excusing their behaviour. It's not even about forgetting what they've done. Forgiveness is a process through which you can move on from what has been holding you back and continue enjoying your everyday life, without that negativity dragging you down. Forgiveness is also not something that should be considered as submissive and does not make you a weak person. It is about identifying how the wrongdoer has hurt you and getting to a point where you can forgive that person for those events.
Self-forgiveness is also important though. Often, people don't or won't forgive themselves for things that have happened to them, they may think they have, 'let it happen' or that they, 'deserved it'. You might also find this if you feel you have done something that you cannot forgive yourself for. Sometimes, self-forgiveness has been linked with causing negative emotions or being narcissistic if you were to decide it as appropriate when those around you don't show you the forgiveness you're looking for.
However, research has also shown that self-forgiveness can have a positive impact on mental health. It helps to reduce any feelings of shame or self-punishment over what has happened, without ignoring or excusing it. Forgiveness is important for everyone's mental wellbeing and allows us to move forward from negative emotions and associations to any wrongdoers.
Forgiving is not forgetting.
References
·         Peterson S, Van Tongeren, D, Womack, S, Hook, J, Davis, D and Griffin, B. (2017) 'The benefits of self-forgiveness on mental health: Evidence from correlational and experimental research', The Journal of Positive Psychology, 12:2, 159-168.
·         Freedman, S and Zarifkar, T. (2016) 'The Psychology of Interpersonal Forgiveness and Guidelines for Forgiveness Therapy: What Therapists Need to Know to Help Their Clients Forgive', Spirituality in Clinical Practice, 3:1, 45-58. 
NEW* Renew YOU, Love Your Life! 90 Day Coaching Program
Are you living a life that you love? Do you want to wake up in the morning looking forward to the day ahead? Would you like to take action to revitalize your life?
I know how challenging it can be to make shifts in our lives. With me by your side, we'll carry out a step-by-step 'spring cleaning' of your life so you can live the joyful, passionate life you deserve to be living.


"Renew YOU, Love Your Life!" is a balanced, well-crafted program that guides you through a 3 step process over a course of 90 days. In 3 months, you'll get to the heart of what's holding you back so you can reset your habits and refresh your life. Leave the blahs behind and connect with your joyful, energized self.
Program overview:

Month 1: Take Stock; Discover what makes your heart sing!

In the first month, we'll take stock of where you're at, discover what makes your heart sing and take the first steps to brighten up your life! Through powerful coaching exercises we'll identify ways to invest in what feeds your soul, and connect what you discover about yourself with your goals!
Month 2: Declutter: Give your life a spring clean!

In the second month, we do a detox to get rid of the obstacles and energy sucks that are getting in the way of your well-being. By cutting away the dead wood, you'll make space for new growth. Commit to letting go of what is holding you back so you can embrace your life with the vitality you need to take on your wildest dreams!
Month 3: Design; Embrace your awesome, purpose-driven life with fresh energy and a positive outlook!

In the last month, we'll set healthy new habits to support you and create a spark team of positive people who support, encourage and inspire you to achieve what you want in your life. You'll set well-crafted achievable goals for the next quarter - based on the vision you have for your life. With daily practices and long-term visioning you'll gain the momentum you need to spring into success.
I've seen enormous growth in people who have committed to the steps in this program. Don't waste any more time putting off your heart's desires. If you want clarity and guidance as you step into your wholeness, let's work together. If you're ready to transform the blahs into "A-has!" - let's talk! 
"...break free of the 'daily-grind' and enjoy this 'adventure called life' as much as you possibly can!"
/